The Chatham Borough Council's plans to overhaul Post Office Plaza will mean the loss of an historic structure built more than 100 years ago by feminist trailblazer Edna Dickinson (1885-1954).
Miss Dickinson was a graduate of Moravian College, a crack shot, world-class collector of mounted birds and animals, a tireless volunteer, a whiz at selling World War I bonds, a founder of the Chatham Trust Company, and our town's first female real estate broker, known for driving her clients around in a Chalmers at a time when cars were a novelty.
In 1911 – years before women were even allowed to vote – Miss Dickinson, 26, built the two-story structure at 31 South Passaic Avenue, near the train tracks, to house her real estate business and an auto repair shop. Upstairs would be The Chatham Press, whose only entrance was on a nameless side street that ran along the railroad tracks.
Before long, the Delaware, Lackawanna & Western Railroad decided to raise those tracks for safety. The Borough allowed the railroad to build an embankment, with a retaining wall in the the side street, only a few feet from Miss Dickinson's building, permanently blocking the entrance to the upstairs offices – as well as a residence in back of the lot, which the DL&W fenced with wire – over the objections of Miss Dickinson, and without compensating her.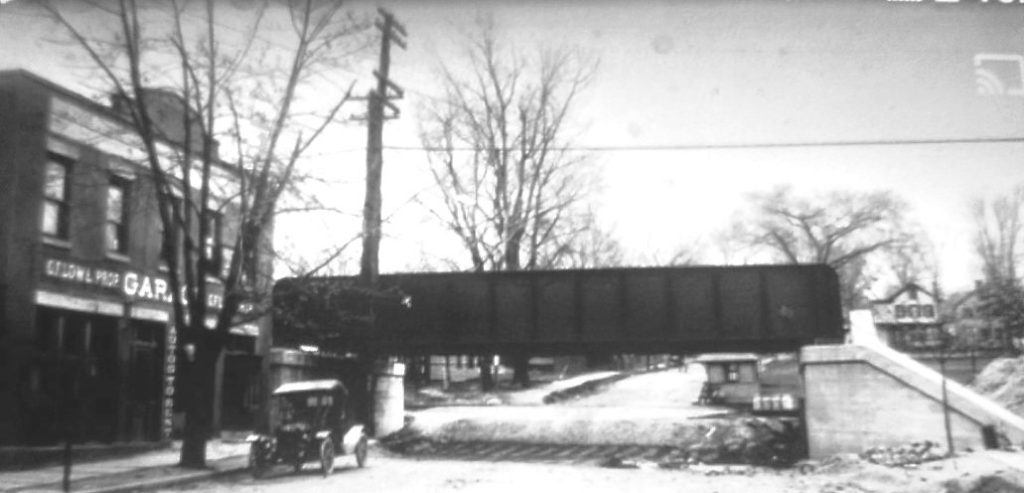 Just look how close the tracks come to the building:
https://www.google.com/maps/place/31+S+Passaic+Ave,+Chatham,+NJ+07928/@40.7394433,-74.3827375,3a,75y,83.37h,90t/data=!3m6!1e1!3m4!1s8mJ_YxEmpCycaEpv8dCcNA!2e0!7i16384!8i8192!4m5!3m4!1s0x89c3af72d5e15273:0xcb10e740d81b723f!8m2!3d40.7394466!4d-74.3825504
Tenacious, young, businesswoman Edna Dickinson battled them in court for four years. She ultimately won a series of jury verdicts, culminating in a 1918 damage award totaling $8,332, which would be worth some $150,000 today.
As of 2021, Miss Dickinson's Garage is the home of Glenn's Automotive and Towing, a hometown business, whose owner – a third generation Chatham resident – just happens to share Miss Dickinson's love of animals.
glennsautomotiveandtowing.wordpress.com
You can find the fascinating history of Miss Dickinson's Garage in My Town by a River: Vignettes of Chatham, New Jersey,* published in 2005 by the Chatham Historical Society, and in many old clips from The Chatham Press.
* https://books.google.com/books/about/My_Town_by_a_River.html?id=cHsHpHcD53IC