Why would our Chatham Borough Council even consider gifting our River Road PILOT money to anyone when we're in such desperate need of fire trucks and other necessities?
That was the elephant in the room at the Monday, 3/13 meeting of our Borough Council.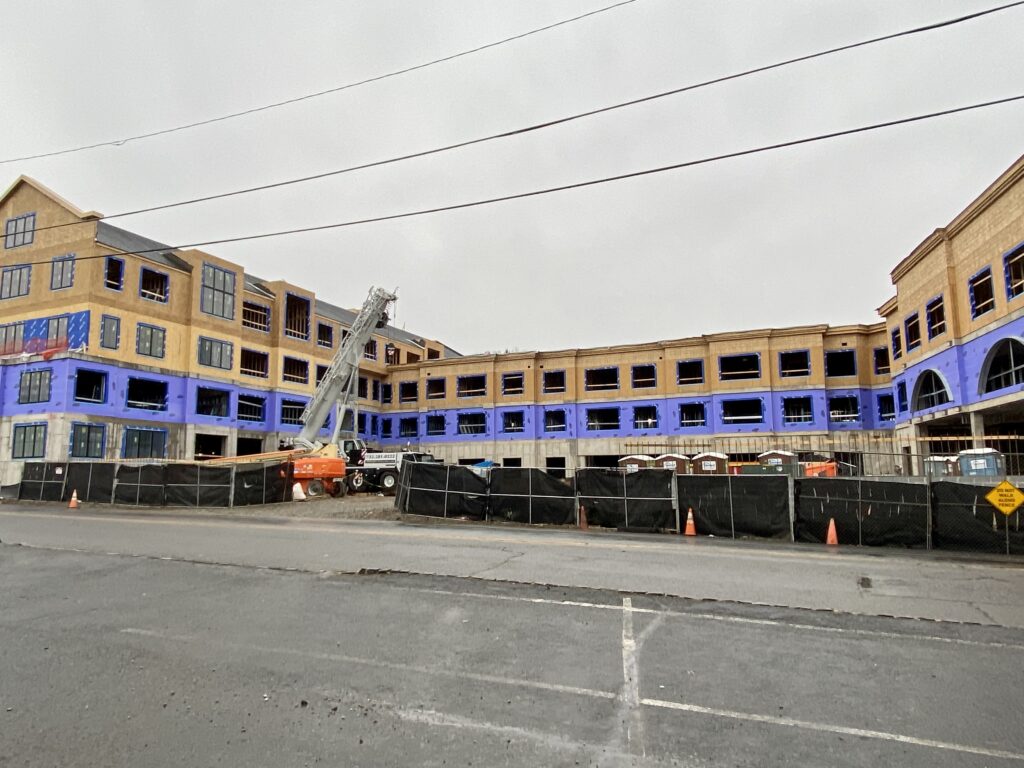 The elephant got loose during a presentation by a principal of BNE, the developer of the massive, stick-built apartment project going up at the corner of Watchung Avenue and River Road.
Asked if our volunteer fire department has the equipment, the manpower, and the training necessary to fight a real fire at River Road, the presenter, a principal with the developer, BNE Real Estate Group, said, "Yes, currently Chatham Borough has what they need to fight a fire in that building." See the video linked below starting about 1:18:00.
https://chathamborough.granicus.com/MediaPlayer.php?view_id=1&clip_id=119
Is that true? No.
Brave, dedicated, and skilled as they are, our volunteer firefighters need more personnel, more training, and far newer fire trucks than Chatham Borough has – or can provide anytime soon, according to longtime, respected Borough resident Robert Penn, a former captain in the Bloomfield Fire Department who worked in the fire service for 44 years and has taught classes in Building Construction and Advanced Firefighting Tactics and Strategy. (Go to minute 37:46 in the following video:0)
https://chathamborough.granicus.com/MediaPlayer.php?view_id=1&clip_id=106
Chatham's fire trucks are so old and obsolete that they pose a risk to the safety of residents and fire fighters alike, says Penn.
https://patch.com/new-jersey/chatham/fire-safety-concerns-prompt-chatham-resident-call-new-equipment
In the event of a real fire at the River Road development, our volunteers would have to wait for help from surrounding towns.
The problem isn't new or partisan. It dates back at least a decade, when the other political party controlled the Council. It will take years to get the necessary equipment.
https://www.tapinto.net/towns/chatham/articles/a-firefighter-s-response-to-mathiasen-s-letter-on-post-office-plaza
https://www.newjerseyhills.com/robert-penn-requests-chatham-look-into-replacing-outdated-apparatus/image_f38c5cac-6f49-5c16-acb2-4ced7f6655ba.html
https://www.newjerseyhills.com/chatham_courier/news/chatham-to-hire-consultant-to-help-craft-fire-apparatus-replacement-plan/article_1bbc2229-7f63-521e-a17a-a33703f740d9.html
Popular Borough Council Member Len Resto is working on getting the fire trucks we need. It will cost a bundle. The Council should use our PILOT money for tax relief and fire trucks, not for gifts. Certainly not without the informed consent of Chatham residents.
That the Council would even consider giving away our PILOT money without our consent is mind boggling. It's a great example of what can happen when we don't hold our elected representatives accountable for their decisions.
If the Council explains the situation, and residents vote to give away our PILOT money anyway, that's their choice. But residents are entitled to know what's at stake before any decisions are made.
Check out this letter:
https://www.tapinto.net/towns/chatham/articles/it-s-our-money-use-borough-pilot-revenues-to-reduce-property-taxes-and-cover-necessities
For more information, click here:
https://www.tapinto.net/towns/chatham/articles/chatham-borough-council-do-the-right-thing-concerning-pilot-not-merely-what-s-legally-permissible-or-expedient